With concerns about public safety and gang violence growing in the Commonwealth, 2017 Republican gubernatorial nominee Ed Gillespie's campaign today released its new television ad, "Ralph Northam's Risky Policies." The ad highlights Gillespie's commitment to building a safer, stronger Virginia, and Democrat nominee Ralph Northam's vote against banning the establishment of sanctuary cities in Virginia.
"The first job of a governor is to ensure public safety; keeping communities, schools, businesses and public gathering places safe. Ralph Northam's policy in favor of sanctuary cities in our Commonwealth will not make Virginians safer," said campaign manager Chris Leavitt. "Ed is proud to be the son of an immigrant, and knows we can both welcome legal immigrants and enforce our laws at the same time. As governor, Ed will stand with our law enforcement and first responders, protect Virginia from those who wish to do us harm, ensure that sanctuary cities that are a safe haven for violent criminals here illegally are never allowed in the Commonwealth, and combat violent gangs like MS-13 that The Washington Post recently reported as seeing a 'resurgence' in the state. Ed included a ban on sanctuary cities in his detailed plan to combat gangs."
"Ed Gillespie understands that if we do not take action to eradicate gang violence now, it will grow into more communities," said Former Virginia Attorney General Jerry Kilgore. "We need immediate action and Ed will bring important leadership and experience to Virginia's public safety agencies. Ed will be a strong governor who will put the public safety first."
York County-Poquoson Sheriff Danny Diggs said, "As a law enforcement officer with over 30 years of experience, I know what it takes to keep Virginia safe. Ed Gillespie will be a governor who is tough on crime and respects the rule of law. Ed will ban sanctuary cities and work with Virginia law enforcement to deport dangerous illegal immigrants who have committed crimes. Ed Gillespie will get tough on illegal immigration and help keep Virginia families safe."
Speaking about Gillespie's public safety plan, Stafford County Sheriff David P. Decatur said, "Northern Virginia is experiencing a drastic increase in gang violence, and our next governor must address this serious issue with a sense of urgency. I know Ed has this sense of urgency, and he is the only candidate in the race who is putting forward real solutions to improve our public safety. We need his leadership."
In what Politico noted was an "open race to the left," during the Democratic gubernatorial primary Lieutenant Governor Ralph Northam voted against House Bill 2000, which would prohibit localities from adopting ordinances or policies refusing to enforce federal immigration laws. Northam stands by his policy of not banning them today. Gillespie would support and sign this legislation, as it is an important measure to keep Virginians safe and enforce the law.
The Washington Post recently noted, "MS-13 has been going through a resurgence in the D.C. area in recent months. It has been tied to killings in Montgomery, Fairfax and Prince William counties and a surge in other crimes" (The Washington Post, 8/14/17). The Virginian Pilot Editorial Board wrote, "For everything Norfolk can celebrate today — all of the progress and the revitalization, the new destinations for tourists and the new business ventures — the violence in recent months threatens it all, and the city must make addressing it priority one" (The Virginian Pilot, 8/18/17).
Last month, Gillespie released Job One: Keeping Virginia Safe. A key focus of Gillespie's plan is gang prevention and eradication, but it is impossible to do so without discussing MS-13 and it's impact in Virginia. A gang like MS-13 preys mostly on our illegal, legal and first-generation immigrant community. While gang-related violence continues to impact the Commonwealth, some localities seek to establish sanctuary cities, creating potential safe harbors for these gangs by limiting the amount of information local governments can provide to federal immigration law enforcement officials. As governor, Ed will sign legislation to make sure every city, county and town follows the law so there are no sanctuary cities in Virginia.
Gillespie will also designate the Attorney General to Serve as the Commonwealth's Anti-Gang Chief, secure funding for the Northern Virginia Regional Gang Task Force, ban Sanctuary Cities in Virginia, expand the "Youthful Offender Program" at the Virginia Department of Corrections, ensure the continuation of school resource officers (SROs) in schools, pursue funding of the Witness Protection Programs in violent gang activity, establish Gang Prevention Programming at Department of Education, and develop Alternative Educational Opportunities for Known Gang Members.
Earlier this month, the Virginia Police Benevolent Association endorsed Gillespie, citing his detailed policies to reform the mental health system, combat the opioid epidemic, eradicate gangs, ban sanctuary cities, reinstate Project Exile, and increase law enforcement pay.
Watch Gillespie's newest ad HERE.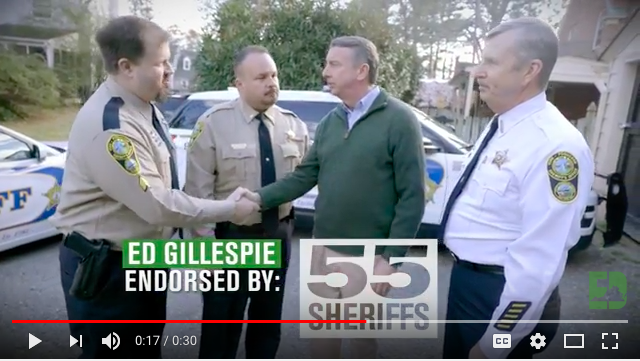 Transcript:
Narrator 1: Who will keep your family safe? Ralph Northam cast the deciding vote in favor of sanctuary cities that let illegal immigrants who commit crimes back on the street. Ralph Northam, risky policies.
Narrator 2: Endorsed by the Virginia Police Benevolent Association and 55 sheriffs, Ed Gillespie will ban sanctuary cities and get tough on illegal immigration. Ed Gillespie for a safer, stronger Virginia.
Ed Gillespie: I'm Ed Gillespie, candidate for governor, and I sponsored this ad.
# # #