2017 Republican gubernatorial nominee Ed Gillespie today issued the following statement in response to recent reports of MS-13 violence in Virginia:
"This week's media reports of even more heinous acts committed by MS-13 members in Virginia further demonstrate this is a growing issue in the Commonwealth, and one we must address aggressively and proactively. We know that since just last November, there have been eight publicly reported murders connected to this gang. Now, we have learned that an abduction over the weekend, one that thankfully ended peacefully, is also tied to the gang. And an MS-13 member has pled guilty to a vicious murder last October. The first duty of government is to keep our people and our communities safe. It is time that we worked together to take on this threat to public safety, and ensure that all Virginians, particularly those who live in our immigrant communities and are the most vulnerable to this violence, are safe and secure. As governor, I will make this a priority and work hand in hand with law enforcement at every level to ensure we finally rid Virginia of this violent gang."
Speaking about the MS-13 violence this weekend Virginia Fraternal Order of Police President Kevin Carroll added, "We have seen an uptick in horrific crimes committed by MS-13, and you are seeing that in news reports this week. Many people don't realize that MS-13 preys on our immigrant communities, but Ed Gillespie understands that and is committed to keep all Virginians safe. There is no doubt he will work with us to eradicate gangs make our communities safer."
"Virginians are rightly concerned about the danger posed to their communities by MS-13 and other violent gangs," said Fauquier County Sheriff Bob Mosier. "While our law enforcement officers do everything they can to combat this scourge, we must have strong working partners in elected office who make public safety a priority. In November, they have the opportunity to send a thoughtful leader to the governor's office, who has a clear plan to keep Virginians safe. They should elect Ed Gillespie."
"MS-13 is a danger to the people of Virginia," said former Congressman Frank Wolf. "Those most victimized by MS-13 are in the immigrant communities themselves. No Virginia family should feel threatened by gang activity. I was proud to support funding for the Northern Virginia Regional Gang Task Force during my time in Congress and am glad Ed has prioritized this in his plan to combat gang violence. I support Ed's agenda to combat MS-13 and gang violence across the Commonwealth. We must stop this scourge of violence that is terrorizing some of the most vulnerable among us."
In July, Gillespie released Job One: Keeping Virginia Safe. A key focus of Gillespie's plan is gang prevention and eradication, but it is impossible to do so without discussing MS-13 and its impact in Virginia. A gang like MS-13 preys mostly on our illegal, legal and first-generation immigrant community. While gang-related violence continues to impact the Commonwealth, some localities seek to establish sanctuary cities, creating potential safe harbors for these gangs by limiting the amount of information local governments can provide to federal immigration law enforcement officials. As governor, Ed will sign legislation to make sure every city, county and town follows the law so there are no sanctuary cities in Virginia.
Gillespie will also designate the Attorney General to Serve as the Commonwealth's Anti-Gang Chief, secure funding for the Northern Virginia Regional Gang Task Force, ban sanctuary cities in Virginia, expand the "Youthful Offender Program" at the Virginia Department of Corrections, ensure the continuation of school resource officers (SROs) in schools, pursue funding of the Witness Protection Programs in violent gang activity, establish Gang Prevention Programming at Department of Education, and develop Alternative Educational Opportunities for Known Gang Members.
BACKGROUND
Just this week WJLA, NBC4 and News Channel 8, and WSLS all provided extensive coverage of different cases of MS-13 activity. Find the links to the newscasts and the corresponding digital articles below.
Watch HERE: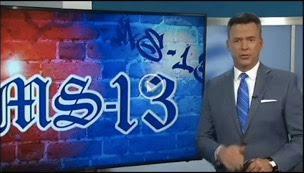 WJLA Amber Alert MS 13
October, 16 2017
"Police have charged a man who claimed to be an MS-13 gang member of abducting a 16-year-old girl at a party in Prince William County Sunday, according to authorities. Prince William County Police say that Roberto Medrano-Segovia, 21, of no permanent address is charged with abduction, gang participation, destruction of property and providing a false name to law enforcement after he allegedly forced Sinahi Aguilar-Cruz of Woodbridge into a car and drove off. Authorities say Aguilar-Cruz was at at party with Medrano-Segovia at a home in the 14000 block of Danville Road Sunday when they got in an argument at the party that turned into a fight. Others were able to separate the two but police say Medrano-Segovia pulled out a knife and said he was a member of MS-13. He then drove off before coming back with people police describe as "associates."' (WJLA , 10/16/17)
NBC4 MS-13 Coverage
October 16, 2017
A leader of the MS-13 gang pleaded guilty to first-degree murder in the death of a man who was shot and slashed with a machete by a group of people during an October 2016 attack. Marlon Argueta Flores, 24, admitted he fired the fatal shots that killed Edwin Chicas, 22, in Manassas, Virginia, last year. Flores faces up to life in prison when he is sentenced in March 2018. Prosecutors said Flores was one of eight people charged in the case, including two women. Those other cases have not gone to trial. Detectives said Flores targeted Chicas for allegedly threatening the gang leader's pregnant girlfriend and her unborn child. When asked by police why Chicas was shot 15 times, Flores said, "Hate." (NBC4, 10/16/17)
WSLS MS 13 Coverage
October 16, 2017
"A Lynchburg mother is speaking out after two new people have been arrested and charged for her son's death. Raymond Wood's body was found on Roaring Run Road on March 27 after his family reported him missing. Since then, police have arrested three alleged MS-13 gang members Victor Rodas, Jose Coreas-Ventura and Lisandro Vasquez, who are awaiting trial. The Bedford County Sheriff's Office announced two more alleged members were arrested. Kevin Soto-Bonilla, 20, was arrested in New York on Sept. 19. He will be extradited back to Bedford in the coming days. Cristian Jose Sanchez-Gomez, 22, was arrested Oct. 5 in Albemarle County, which is the Charlottesville area. He is being held in the Blue Ridge Regional Jail without bond. Majorie "Marj" Stagno has kept quiet and out of the media since her son's death in March. "Being silent, I felt needed to be done for the investigators to get their part done," Stagno, Raymond Wood's mother, said." (WSLS, 10/16/17)
News Channel 8 MS-13 Coverage
October 16, 2017
The Washington Post also noted two separate MS-13 related incidents this week.
"A 21-year-old man who claimed ties to the MS-13 street gang is accused of abducting a teenage girl and pulling a knife on people who tried to help her after the two got into a fight at a weekend party in Virginia, authorities said. The incident unfolded Sunday just before 2 a.m. in the 14800 block of Danville Road in Woodbridge, Va., according to Prince William County police. A 16-year-old girl went to a house party with 21-year-old Roberto Medrano-Segovia, of no fixed address, who was an acquaintance of hers. During the party, the two got into a verbal — and then physical — fight. Others tried to separate them. At one point, police said, Medrano-Segovia displayed a knife to some of the witnesses and said he was a member of the criminal street gang MS-13, according to police." (The Washington Post, 10/16/17)

"One MS-13 member clicked a cigar cutter open and closed with a metallic ring, while another told the 15-year-old they would cut her fingers off, the prosecutor said. Another gang member asked where the gasoline was so they could burn the girl up. Ten members and associates of MS-13 lured Damaris A. Reyes Rivas to a Springfield park in January because they wanted revenge. They blamed the Gaithersburg teen for the death of their clique's leader, Christian Sosa Rivas, whose body had been dumped in the Potomac about a week earlier. Venus Romero Iraheta, 17, who was Sosa Rivas's girlfriend, told Damaris her fate would be the same. 'Venus told her she was going to die that day as Christian did — in the cold,' Fairfax County Deputy Commonwealth's Attorney Katherine Stott said in a Fairfax County courtroom Tuesday." (The Washington Post, 10/16/17)
# # #