Gillespie Campaign Launches Television Ad Highlighting Important Education Policy Differences
2017 Republican gubernatorial nominee Ed Gillespie today reiterated the stark differences between himself and Democratic nominee Lieutenant Governor Ralph Northam when it comes to their approaches regarding Virginia's public education system. His comments, and a new television spot, follow a recent Washington Post editorial that noted during a recent visit with the paper's editorial board the Lieutenant Governor had "no answer" when it came to how he thought accountability could be improved in the Commonwealth, despite having served in statewide office for four years, and suggested that different students should be given different assessments based on where they are from and their backgrounds. The full editorial can be found HERE.
In contrast, Ed Gillespie believes it should be the stated policy of the Commonwealth to recognize achievement and student growth measures, and that we must help each child meet their full potential. Ed rolled out his comprehensive public education policy earlier this year, and it can be read HERE.
"The proper role of government is not to guarantee equality of outcomes for everyone, but equality of opportunity for everyone," said Gillespie. "That means we have to fight with every fiber of our being to ensure every child in Virginia has access to a safe, quality school, and as governor I'll make sure they do. Lt. Governor Northam fails to understand that a child's potential should never be limited because of their socioeconomic background or where they live. The difference between my education policy and his could not be more clear."
Highlighting that clear contrast, the Gillespie campaign today launched a new TV ad focusing on the issue:
Watch HERE: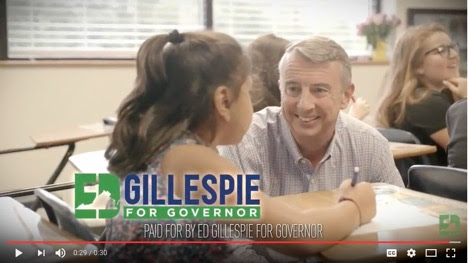 Transcript
Narrator: Virginia kids deserve world class schools, but The Washington Post says Ralph Northam has no answer for improving accountability. He's contributing to the soft bigotry of low expectations.
Ed Gillespie: I'll fight for children trapped in failing public schools. Parents should have greater control over our children's education, and teachers should have greater control in the classroom as well. We need to make sure that all children have access to a good education. I'm Ed Gillespie, candidate for governor, and I sponsored this ad.
Background
From The Washington Post's Editorial:
"Mr. Northam claimed to believe in accountability but was utterly unable to explain what he means by the word. The state's Standards of Learning (SOL), which establish minimum expectations for what students should know and be able to do, aren't working, he said, and should be tossed out. What would replace them? Astonishingly, after almost four years as lieutenant governor and a month away from the election, Mr. Northam had no answer. Particularly concerning was Mr. Northam's view that because children are diverse, 'coming from different backgrounds and different regions,' he's 'not sure that it's fair' to give them all the same test; they shouldn't be penalized, he said, for the environment they come from. The suggestion that some students should be required to pass one type of assessment, while others are given a different (presumably more rigorous) one, is disconcerting…Creating different expectations for children does them no favors; it just allows adults to escape responsibility. To borrow a phrase from the history we revisited with Mr. Northam, it is the 'soft bigotry of low expectations.' Once again, schools and the grown-ups who work in them will be excused and applauded as they graduate poor black students who are not prepared for work or college." (The Washington Post, 10/14/17)
# # #